Five Zero! Yuppers! You can make a (very nice) solid wood twin bed frame + stain + a paint brush + Protective finish all for 50 dollars or less! Too crazy? Don't believe me? Keep reading then…
______________________________________________________
Okay, so a lot of you know, I am sorta redoing my little brother's room. (aka adding a few things in) He needs a bed….well, not a bed…he has one of those, what I mean is that he needed a bed frame. A really nice one. I was thinking dark walnut wood with kind of a rustic "cool" feel. Perfect for a game room/man cave bedroom.
Ahem
Ummmmm….. exsqueeze me?
450 dollars??!?!
Maybe he doesn't need a bed frame…
Back to the drawing board. I surely wasn't going to be able to convince my parents to spend 500 $ on a bed frame so all that was left was to break out my ancient old carpenter skills (actually I have no ancient carpenter skills, that just makes me sound like I know what I was doing. In reality, I have no idea :)
But I do now! kinda
I researched a bit and found the lovely Ana White and her bed frame tutorial. This is a lovely bed and tutorial (Thanks Ana) and you should totally go check it out, but for me, I wanted something taller and no lip. ;)
I wanted a bed Like this one (with no headboard)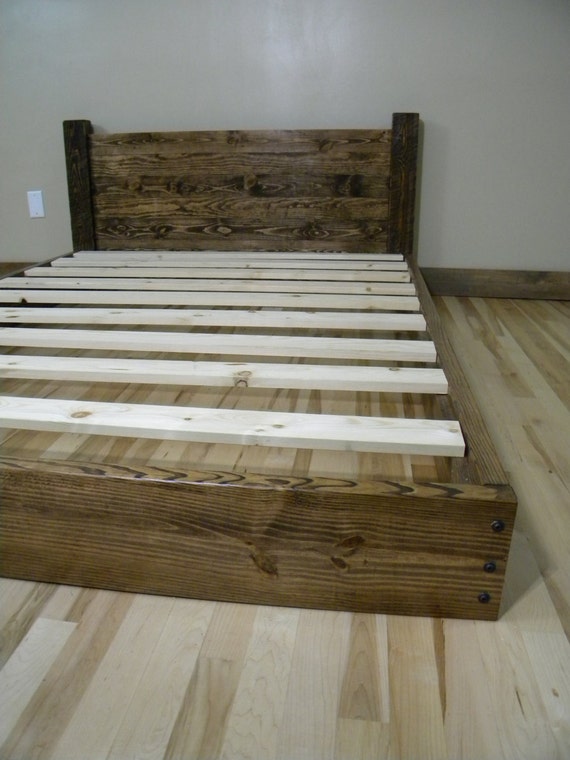 Using Ana's plans as guidelines, I modified them to fit my wants and made this bed and tutorial. Let's get started:
2 1/2" wood screws

$6.00



Stain (keep reading, and I'll show a pic of what kind I used)

$4.80



Two – 2×2 @ 8′ long

$4.00

Six – 1×4 @ 8′ long

$12.20

Two – 2×8 @10′ long

$13.00

Water based protective finish (I will also show you a picture)

$9.00




Saw

Drill

Measuring tape

Level

Protection for eyes and ears
Now notice, I did not use the most expensive wood. This bed cost only $43.01 exactly, the price of one fancy meal at a nice restaurant. I went in, found some wood (who knows if it was indoor or outdoor) and said, ill take 2 of those please!
As Shanty 2 Chic would say, I "Build like a girl" :) And you do too, if your like me and walk into a Lowe's or Home Depot and began describing what you need by using your hands and funky words: Ha!

"Hi, I need one of those hinges that go like this:"
Proceed to move your hands in the movement you want the hinge to do
"Do you have any of those?"
So me…all the time lol
So imagine my delight when I didn't have to ask for help! All I needed was simple wood (cheap wood at that)
To make this bed, you cut your 2×8's into 4 pieces.
Two pieces need to measure: 76.5" and two pieces need to measure 39"
(you may need to adjust slightly depending on the mattress)
Take those 4 pieces and build a box. Simple! And I'm sorry, but this bed frame was so gargantuan that I couldn't get a picture of it without puppies trying to help out. lol :)

Build the box with the 76.5" pieces of wood on the outside of the 39" pieces. Like above.
I used three screws on each end, drilling pilot holes so the wood won't split.
Next, cut your 2×2 pieces so they fit right inside the box on each long end
Position it about 2-3" below the top. Screw one screw in the middle, make sure it is all level and add another couple of screws in the ends. Do the same to the other long side. Make sure everything is level. Levelness is the key
If that's nice and stable, it is time for the slats. Here is where you can choose from two different options. You can keep the 2×2 braces at the top so the bed sits about 6" off the ground, or you can flip the whole frame over so the bed mattress sits in the frame about 6". I choose this latter option because lil'bro has an unusually tall mattress.

Time to cut the slats. Take the pile of 1×4's and cut them 39". You should end up with 12. You can use all 12 if you want or you can use less. It depends on the size of the child sleeping and the size of the mattress.

Spread them out evenly on the braces (I didn't measure) and tack secure with some nails. No need to get fancy with pilot holes and screws unless you want to. I just chose the easy nail option. But just as a warning, if you choose nails…DO NOT pick the bed up by the slats!!!

Stain the bed frame if you so desire and finish with a sealer (protective finish). 
As you can see, I got a little stain happy: Boredom + stain = an impulse to stain the entire bed, which by the way is not necessary! :)
So that's it! Ta-Da!! Enjoy!!!
Oh yes! *Wyoming* And don't forget to let your wee little helpers pick up the tools for you! ;)
_____________________________________________________
Hope your bed frame turned out awesome! Don't forget to check out Ana's bed, and have a wonderful splendid rest of the day! 
don't forget to:
LIKE and SHARE 
Thanks,